Thanks to
Full of Great Ideas
I found a way to use up my stash of burlap, and can I tell you that I am in love with this stuff?! Yes, that itchy cheap material is on my current favorite list.
For starters, did you know that you can put this in your printer with the help of some freezer paper??? Yes, burlap, in your printer. You heard me right.
Iron the freezer paper onto the burlap, shiny plastic side touching the burlap, on medium heat with no steam. Iron until the paper sticks to the burlap. Then cut the burlap and paper to standard printer paper size, 8.5x11. After that you print and you're done! So easy and fun, I see many more projects in my near future. A banner perhaps?
Anyhow, on a whim I decided to repaint my bathroom and needed some decor. I printed off onto burlap the definition of bathroom, then mounted it onto scrap foamboard I had around. I put some beadboard wallpaper on the foamboard and placed it into a spare frame (painted in oil rubbed bronze, of course). The tacks that hold the burlap onto the foamboard have buttons glued on them. The flowers are twisted and hotglued muslin, satin ribbon, and more burlap. The black flower is adorned with my grandmother's earring. It gives it a little flair!
I am also sharing the word doc link if you want to print a bathroom sign out for yourself:)!
Click here.
Then I decided to print up this, mounted again on beadboard wallpaper, for a friend's new baby. Isn't it great?
So get your burlap out and get to making some for yourself or for gifts! They are sure to be well received!
I also added this to the following parties: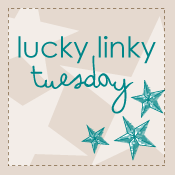 http://www.thegypsyscorner.com/