I really don't know what to call it so I will let you decide:). It is a tree with mine and my husbands initials on it, so it is an initial tree, right? haha. Anyway, I had a wall in the new bathroom that needed filling and since I have a collection of embroidery hoops I decided on this.
Supply list:
embroidery hoop- I used a 12 inch one
muslin or another thick cotton fabric
acrylic paint for the tree
Fine tip paint brush
Embroidery floss
Embriodery needle
Hot glue gun
Optional
Grosgrain ribbon for flowers (or fabric for leaves if you prefer)
Needle and thread for grosgrain flowers
Ribbon for hanging
Paint for embroidery hoop
First you start with some muslin or other thick cotton fabric and an embroidery hoop. You can paint the embroidery hoop at this time or leave it until last (to decide how you like it once complete) like I did.
Then using a disappearing ink marker I sketched out my tree, heart, and initials. To make the bark in the tree I took my marker and rolled it in my fingertips while drawing a line down. It worked great, so try practicing that "technique" on some scrap paper!
For the heart I used a basic running stitch using red embroidery floss.
For the initials I used a split stitch so that it looked a bit more polished.
Both stitches are really easy.
Below are examples of each stitch for you!
Running Stitch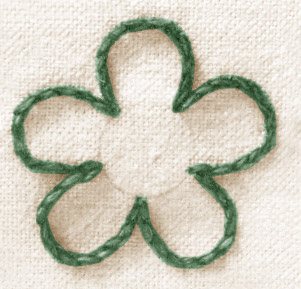 Split stitch
Now it is time to begin painting your tree. I have an assortment of acrylic paints, the $1 paints at craft stores. I would have preferred brown for the tree but the room it is going in is blue and black so I needed a darker shade. I settled for a brown/ blue/ gray/ green that I mixed. Using a fine tip paint brush I traced my outline, adding few additional touches here and there:).
Deciding that it needed a bit more I thought I would add some fabric leaves or some embroidered hearts throughout. I ended up making some ribbon flowers that I am still not committed to, but I do love them!
Take 4 inches of grosgrain ribbon and burn the ends to prevent from fraying.
Tie a knot at the end of your threaded needle and sew a running stitch at the bottom of the ribbon.
Pull that stitch tight to create a flower or yo-yo.
Notice the Emergen-C in the back. Yeah, I am sick. Awesomeness.
Here I go through the loop at the beginning knot and double knot my thread to secure.
The result...if I were brave enough to commit to these flowers! haha!
***Now is the time to paint your frame if you decide to or haven't painted it already!***
Notice the pins in the back? Yep, that is me trying decide on the flowers!



Pull your fabric tight and tighten your hoop screw.
Cut the excess fabric as you would trim a pie.
Oh, and a great part to the day? Seeing this in the mail!
How cute is she???
Do you follow
Enjoying The Small Things
and Kelle Hampton? You have to! She is an amazing mother and photographer with an even more amazing story. I love her and don't even know her, although I picture myself as her bestie at times.
Anyway, I donated what I could to the walk that she participated in for Nella (her daughter born with Down's Syndrome) and I got this super sweet thank you letter from the Hampton's. Oh, and Nella thinks I am a rockstar which earns her a place on my fridge:)!
Linked to the following parties: